022 CARRIERE SLX 3D CLEAR HIGH TORQUE UL 1 +17T (5)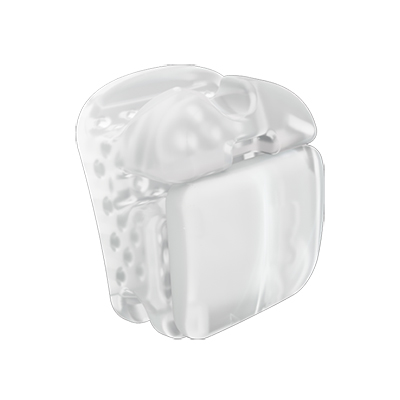 022 CARRIERE SLX 3D CLEAR HIGH TORQUE UL 1 +17T (5)
Product code: [
776-UL1H-5

]
Don't Bend Wire like a Pro:
With proven and precise torque values, in/out thickness and slot depths, the SLX 3D Bracket is designed to ensure less wire bending so you can spend more time doing anything but wire bending.
One Size doesn't fit all:
The SLX 3D Bracket System has narrow brackets for narrow teeth and wide brackets for wide teeth - because size matters when it comes to rapidly securing rotational control and ideal tooth positioning.
Guard Rails aren't just for Highways:
Our exclusive Adhesive Guard Rail Technology (AGR) directs excess adhesive to the sides for fast, easy clean up.
Easy on, easy off:
Our compound contour bases are designed to "fit like a glove" while the beveled base edges aid in quick and clean removal.
Just do the Twist:
Our proprietary new Ez Twist (#201-510) feature brings a new level of staff joy and patient comfort to your practice.  For fast, comfortable wire changes,  Just Do The Twist!
Pack of 5.
For further information please contact our Carriere Representative - Kat Woods     kat@naolspecialistdiv.com.au or  0417 600 034